Everything went as planned.
Amigos and amigas made it happened.Gracias!XOXO
Celebrated my 21st in advanced with my girls and boys.
Yada..yada....2 celebrations -my family and friends!It's not that I'm wasting my $$$$$$$.
Since I didn't have a big party like the others do for their 21st, I preferred to celebrate it with my family and friends RESPECTIVELY so we can have our fruitful time together.
It's my idea to celebrate it @The Houz @ Klan.Got the VIP seat!
My first sip of alcoholic drink after I'm back for 1 week +.It's unbelievable!
When age is
'growing'
,the body is growing too but older. :)
As usual,Sherlynn is always late because she would only start her journey from her home whenever I reach a destination first.
That's my babe!
At least they didn't take a long time to reach.
Ordering drink was not what they did first.
Photos,photos and more photos!!!!
That's us!
I was asked to unwrap the present given by Jaz,Cathy & Eric.
Wanted to open it when I'm back home but since they requested for it,I guessed it's something CUTE!
And also the same situation that faced by Jaz few months back.
Guess what?The first thing I did wasn't look at the design but trying to find what's the brand of it. haha.............*BAD*
I think it was Eric's night more than mine as he's back to single!!!
We're so damn happy about it.It's not that we're evil but he really looked so down when she was with the girl.
Then,we started to take pics with him non-stop.
And he kept saying:
"I'm not the main character,it's Jo Ann!"
Btw,everyone ignored about that 'statement'.
Sherlynn and I always do something that we love to do..haha
I planned for a nice game for everyone.
Everyone got to drink!
The game is called
"guess the ingredients of the drinks".
Loser must finish the drink while if everyone guess right,I'm the one have to finish it!
The game went RIDICULOUS as they started to guess the wrong ingredient on PURPOSE as the taste of the cocktails was the BOMB!!!!!
Played cheat!
it's time to unwrapped hing pin's present.
Upon his request, the present is 'saved' from unwrapping until I reached home.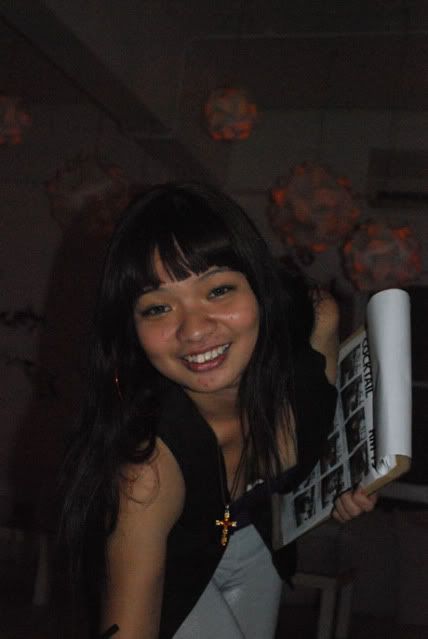 Punishment is the main thing that we wanted to do!!!!
My bad,not my intention.
They were the ones being punished but I was dragged along too.
This is the 'privilege' for the birthday girl!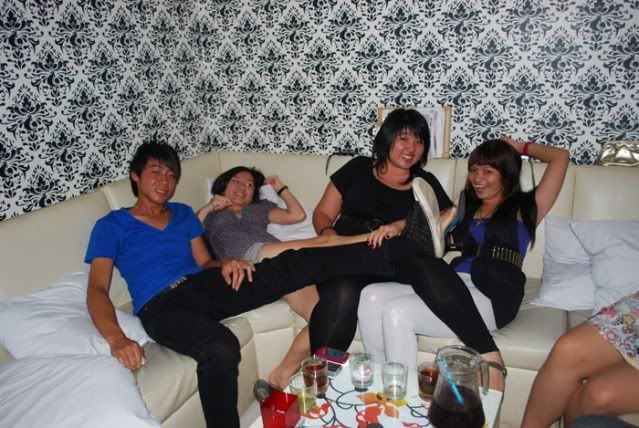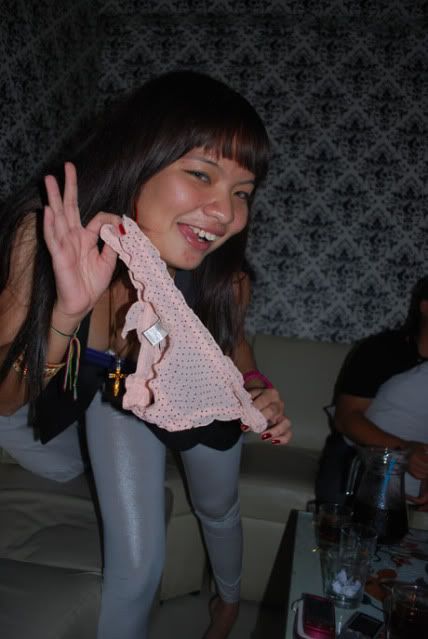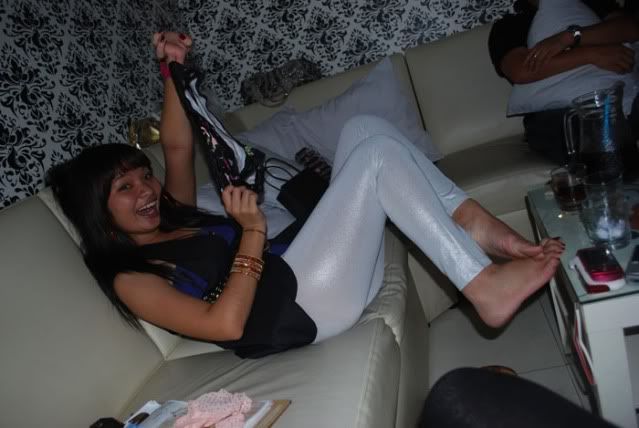 I was asked to wear the sexy thingy on my punishment!!!
this time is kissing the table!
The pole dancing session.This time I was the pole while Eric was the dancer.
This reminded me of the dinner 2 years ago when I had to do pole dancing on the stage but Eric was the pole and I was the dancer.
If he didn't mention about it,I would not have remembered it..haha
They sang English,Chinese and Cantonese birthday song.Everyone stated to get high when singing the Cantonese birthday song.
And I ended it with my solo singing Spanish birthday song!
Who knows?Eric has pushed the candles into the cakes until I couldn't see it!!!!!
We ate the cake together without cutting it!
It's nice doing it!
Eric then offered to feed me with cake.*SHOCK*
The feeding session...
He fed me few times until I felt like vomiting as the cake was too creamy!!!
p/s:DSLR was out of batt so the quality of the pics are different when using my digital cam.
p/p/s:Someone FFK me!!!!!Forget about it since I did not celebrate in a club .She's more to clubbing celebration as her husband!Not my taste anymore.