It's our 2nd day in Kuching!
This day was the most hectic day for us as we would be going to Ade's place in Sarikei,the other part of Kuching,Sarawak.
Without sufficient of sleep,we woke up at 7-ish a.m to get ourselves prepared to Serikin.
Breakfast with Kolo mee.
Kuching
' Kolo Mee '
or
'koh-loh mein'
(egg noodles, flash-boiled and then served with (classically) garlic, shallots, minced pork, white vinegar, pork oil or in some cases peanut oil and sliced barbecue pork also known as
" char siew")
is a widely popular dish with the local population.
(resource:Wikipedia)
At 9.20 am,we departed to Serikin with 8 of us in an Unser.It took us almost an hour earlier to reach than our estimation of 2 hours journey.
Serikin Market is located at the border of Sarawak and Kalimantan.In Serikin town of Borneo,the Indonesian traders come to sell their cheap goods and products to Malaysian every Sunday morning.The local authorities allow them to sell their goods on the street of Serikin, less than 2 km from the border.
There were many vehicles with Indonesia license plate.
It was drizzling while we were walking towards our car.
I spotted this interesting handmade craft but I couldn't find my liking.
After everyone got what we wanted,we headed back.
On the way back,Hilda's dad stopped by the street so that we could grab some nice and special food.
Before we hit the road back home, we dropped by Tasik Biru,Bau.
Tasik biru means blue lake.The water seems to appear blue-greenish due to the green vegetation and blue sky.
The Tasik Biru itself was on the headline of all the newspaper on 7th August 1979.A bus carrying about 50 children plunged into the lake killing 31 pupils and 21 pupils survived the accident.
When I heard about the news from Hilda, I feel so sympathised for the children.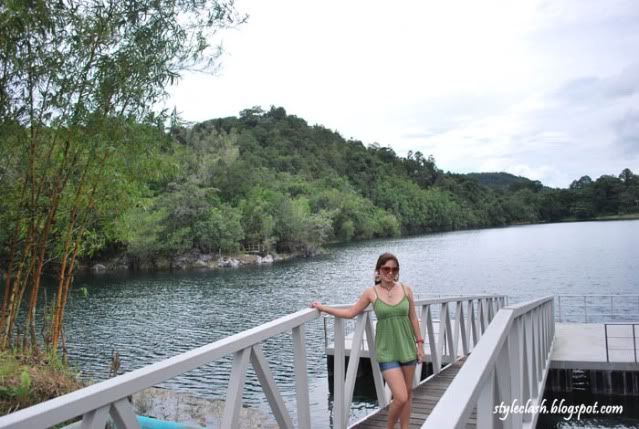 We had tomato sauce kueh teow for lunch.It's my 1st time trying it.
We had some rest back to the hotel room and packed some clothes for the next trip to Sarikei.
Dinner at Jalan Song.
We took the 10 pm bus to Sarikei.It's a 6 hours journey with no highways!!!!!
I was kinda scared in the bus when I saw the condition of the road as it could be described as the aftermath of landslide!!!!!!
We arrived Sarikei at 3.20 in the midnight.
Journey to be continued...............................................