I used to drink Guinness Stout but not Guinness Draught.
Bear in mind,they are not twins but
'siblings'
.
My 1st time celebrating St.Patrick's Day and it's in Sabah.
*Honoured*
I'm glad that my not-so-wanted to go for the celebration did turn out to be a great night.
I was the one bugging Samuel to go at first and also the one who wanted to
'chicken-out'
at the last min.Then ,he started to complaint that I didn't keep my promise.
Btw,it's not easy for me to find someone who drinks Guinness!
Moreover, I was on the fence of good and bad mood so I thought drinking could make me feel better.
It's proven!
We celebrated St.Patrick's Day at the newly opened
Cock & Bull
@
Jesselton Point
.
Cock & Bull
is the most perfect place to chill out for beer,cocktail, Guinness and so on.
They have free popcorn!!!!!!!
We ordered 3 pints and we got a redemption coupon and a lucky draw coupon.
The creamy Draught which made me fall in love so much........
I have another motive for the St.Patrick's Day.To aim for the HUGE hat!!!
We need 4 coupons to redeem it!!!!
I didn't get to collect it yet since we had only one redemption coupon.Borrowed it from the Guinness pretty ladies
The bar which had variety of alcohol displayed on the rack.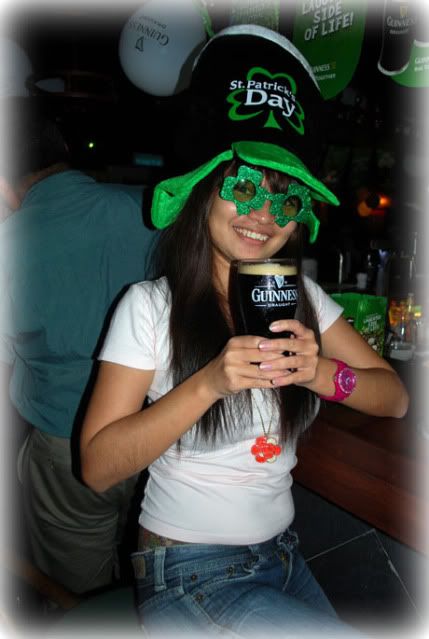 The 1st sip was super awesome!!!!!!!!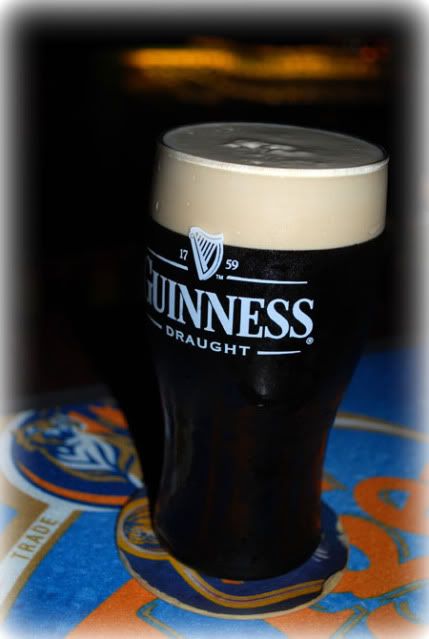 The creamy and delicate Draught!It's perfect for the night!
We arrived before the event started.At least got some time to cam-whore with the Guinness!
When it's 10pm for the event to start!
Raise a glass to Arthur......................................
My pint of Guinness and I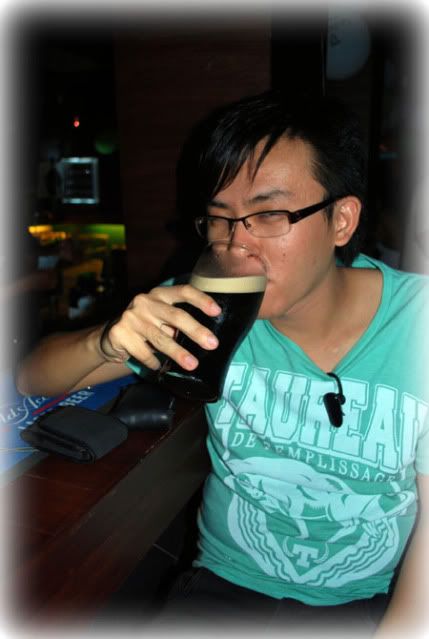 Samuel with his
Guinness Draught from the tap....
3 pints for 2
Our lucky draw coupon and Guinness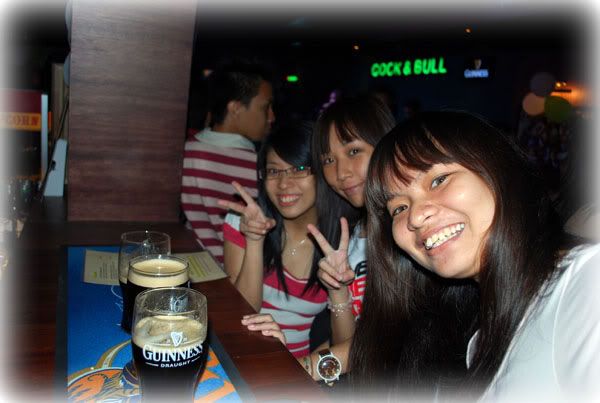 My seniors joined us for the night but they didn't really drink.
The lovebirds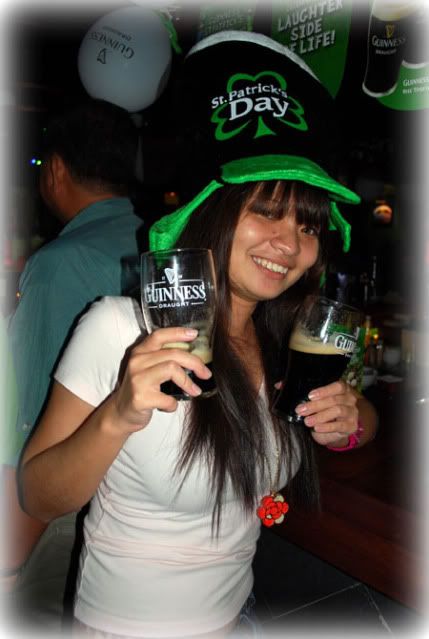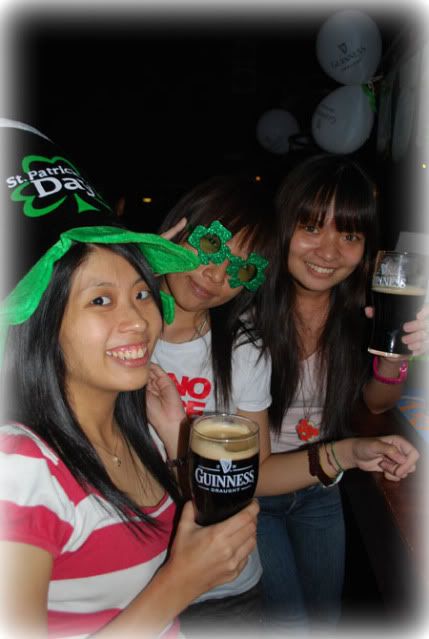 Cynthia,Sze li and Moi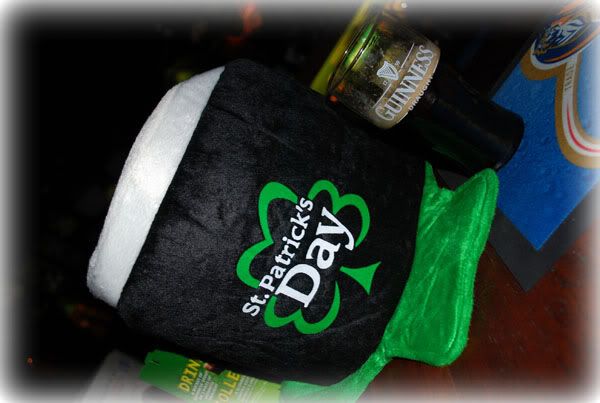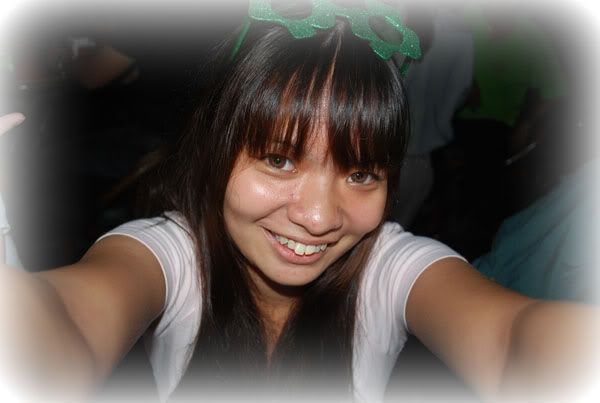 Have a Guinness and a smile put on you.................I was really happy that day due to a surprise!!!!
The kind bartender who kept refilling popcorn for me..hehe
On Cynthia's request to act nerd with Guinness Draught
The organizer even prepared magic show for the audience!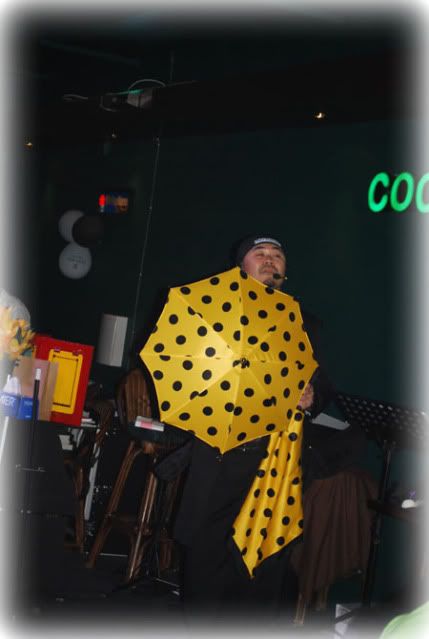 Magician with his yellow umbrella.He did some act on flying the table and blah blah blah.....
Ricky,Jia Shin and Weng May from UTC joined us after that.
When it's time for the question and answer session,I was so eager as I wanted to win another 2 more redemption coupon to get the HUGE hat!!!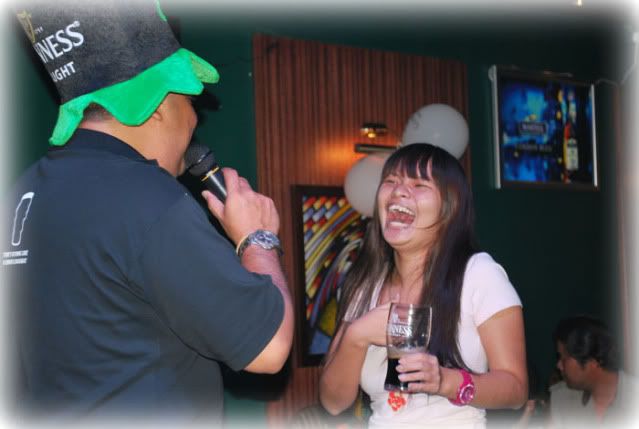 The first question he asked:
"Are you a regular Stout drinker?"
I answered:
"Yes,I drink all sorts of alcohol."
When I was asked if I noticed the logo on Guinness Stout,I was like
"Gosh!How ah?I don't know leh."
Question given to me:
"Where's Guinness brewed?"
Me:
"Irish."
Him:
"Which part?"
Me:
"Dublin"
. I was like thanked GOD I read
KenWooi
's blog before that.
Him:
"I know but where is it brewed?"
Me:
"No idea."
*mati kong kiao kiao*
Him:
"I give you a clue,St.........."
Me:
"St.Patrick"
It was not a right answer though.............
When I showed innocent face,I was given another chance to answer 1 more question.
"Where's Guinness from?"
"Irish."
"Which part?"
"I said the answer already."
"Said again la..."
"Dublin."
And when I admited that I never noticed the logo as I always get drunk...lol..........
I got the 2 redemption coupons!!!!!!!
Total 4 coupons Ricky has one too!!!
Quickly rushed to the counter to get my hat! MAD LOVE!!!
As for the lucky draw session,we were supposed to won at leats 2 pints of Guinness Draught but we didn't have the customer's copy!!!We have nothing!!!
The system was suck!!!!!!!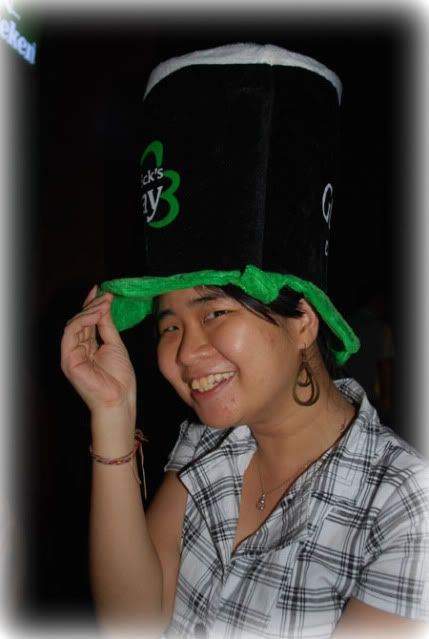 Jia Shin with my HUGE hat!!!
Ricky-the drinker!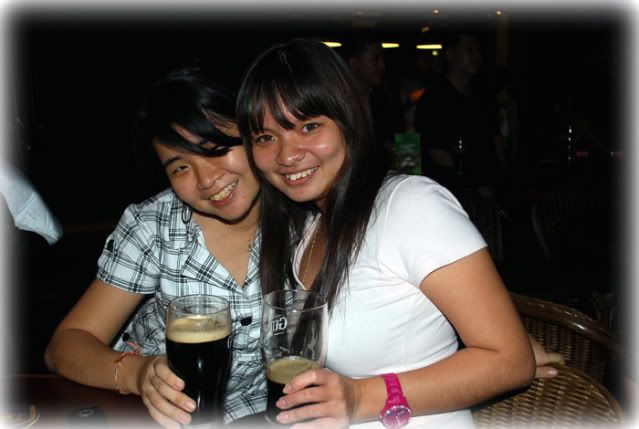 And last but not least, the 2 Malaccan young ladies.The Master in Chemical Engineering lady and
the Bachelor in International Business Lady.
Cock&Bull
is the best place to wind up and down the night....
Buenos Noche.......